The south end of viticultural Alsace, between Colmar and Thann, often seems overshadowed by the abundance of famous vineyards, postcard villages, Michelin stars and tourist services that cluster a bit farther north. But the south has its advantages. Its towns are mostly smaller and calmer, and there is more open space between them, including parks, natural reserves and other contributors to biodiversity. Elevations are also higher overall as one moves upstream toward the Alps, and the Vosges Mountains are also higher, keeping maritime influences even more effectively at bay, and driving the tops of many Grand Cru vineyards (think Kitterlé, Rangen and Zinnkoepflé for starters) close to the 400-meter contour. In the context of global warming, which has markedly affected Alsace over the last four decades, the extra elevation is often advantageous. True that vineyards and cellars are sometimes less well signposted in the south – I once spent more than an hour trying to find an access path to Rangen at Thann – but the vintners are no less serious, and the best wines no less impressive. In fact, a good case could be made that south of Colmar (and north of Andlau) are now the most vibrant regions in viticultural Alsace.
This post is an introduction to three wine estates south of Colmar: Domaine Barmès-Buecher in Wettolsheim, a stone's throw from Eguisheim; Domaine Léon Boesch in Westhalten, at the mouth of the picturesque Vallée Noble; and Domaine Valentin Zusslin in Orschwihr, on a rise between the Vallée Noble and the valley of the Lauch. All are bonafide family enterprises, with various family members actively involved. All are estate wineries; growing most or all of the grapes they crush, and they bottle everything they produce, that is, nothing is sold in bulk. At each one the torch has been passed to a new generation quite recently — at Zusslin the transition occurred just last year, following the untimely death of Jean-Marie Zusslin, though his daughter Marie and son Jean-Paul have managed the estate since 2000. At Barmès-Buecher, Maxime and his sister Sophie have been in charge since losing their father to a bicycle accident in 2011. At Léon Boesch, the eleventh generation (Matthieu) and his wife Marie work with tenth-generation Gérard and his wife Colette. (Gérard and his brother Jean divided a larger business some years earlier, leaving Domaine Jean Boesch et Petit-Fils in Soultzmatt, while Léon Boesch set up in a new cellar down the road in Westhalten, though not without having moved an 18th Century door to the new cellar, which is an ingenious bioclimatic building built of limestone, wood and processed straw, topped with a green roof.
Barmès-Buecher, Léon Boesch and Zusslin are all matter-of-factly biodynamic estates that farm in the neighborhood of 15 hectares each, and all work with some vineyard parcels that are marginal owing to slope, elevation or exposure; Barmès-Buecher and Zusslin cultivate some sites with a horse to enable tighter vine spacing while minimizing soil compaction. All insist on prodigious handwork in the vineyard, on the sorting table and in the cellar. Like most Alsace estates, all work with most or all of the varieties that are permitted in Alsace, but these three have given more than routine attention to Riesling and Pinot Noir. All rely entirely on naturally-occurring yeasts, long press cycles and little sulfur, and all embrace extended lees contact; Zusslin is also an unusually late-bottler, usually waiting until two years after the harvest, and holding substantial stocks for even later release, especially to sommeliers thirsty for mature vintages.
For the visits I made in August 2017, I concentrated on Riesling and Pinot Noir.
Barmès-Buecher makes site-designated Riesling from six sites. The two Grand Cru sites are Hengst, a south-facing calcareous-clay site in Wintzenheim, and Steingrubler, an east-facing combination of calcareous clay and colored sandstone, in Wettolsheim. Unsurprisingly these sites make the biggest and most structured wines. The 2015 Hengst Riesling (13.6°, TA 5.6, RS 4.0) showed the grip of grape skins, spice and abundant phenols, some candied lemon, and stone fruit peel, and was long and mouth-filling. For Maxime it is a big-framed, masculine wine, and spice is its signature. The 2015 Steingrubler (13.1°, TA 5.4, RS 9.9) was very complex, seemingly built of herbs, very tightly knit, and off-dry. While both wines have their place and their fans, the 2015s from Rosenberg (13.3°, TA 6.5, RS 4.1), Herrenweg (11.5°, TA 5.2 RS 4.1), and above all Clos Sand (12.2°, TA 7.3 RS 3.1) were brighter, tenser and more interesting. Indeed Clos Sand, a single, southeast-facing hillside isolated between swaths of forest, with another vineyard nearby, planted densely (8300 vines per hectare) in 1999 by Maxime's father in granitic soil strewn with mica and crumbled sandstone, and covering less than a half hectare, makes amazing Riesling: intensely lemony and very bright with hints of smoke. This is fine, pure, taut, dry Riesling that could make anyone salivate, and a personal favorite among all the wines reported in this post.
Barmès-Buecher's top Pinot Noir comes from less than half a hectare of half-centenary vines in Hengst, which is bottled as Vieilles Vignes. The estate foot-treads these grapes, and raises the wine entirely in oak barrels of which forty percent are new in most vintages. In 2017, the 2013 showed as a still quite young wine, and the slightly angular structure of a cool vintage, but the cherry flavors were clean and the wine well built. The 2015, from a warmer vintage, was already lovely in 2017, round and ripe but still elegant, and almost velvety. The estate also makes a Reserve Pinot Noir every year, its fruit sourced from a handful of parcels in Wintzenheim, Wettolsheim and Eguisheim. In 2015 this wine spent just ten months entirely in barrels that had been previously used, giving it considerable charm, presenting as soil-driven and mineral rich, surmounted with red fruit; although it was very slightly grippy on the finish, this Pinot was also very good, and exceptionally good value.


Léon Boesch grows its flagship bottlings of both Riesling and Pinot Noir in the same site, called Luss, which faces southeast across a gentle slope low on the Pfingstberg hill, just above the D5 road linkling Soultzmatt with Orschwihr. The topsoil is limestone-studded clay-loam, over base rock of almost pure limestone. The family planted a bit less than a hectare of Pinot Noir and Riesling here during the 1970s; in 2007 they added a bit of Gewurztraminer. The 2016 Riesling from Luss was intensely fruity and totally dry, displaying fantastic tension, grip and structure, and flavors of lemon and grapefruit. The wine was whole cluster pressed in cycles lasting 8-10 hours, and the new wine was left on its full fermentation lees, without racking until just before bottling. The 2015 (13.3°, TA 6.6, RS 1.3) showed similarly, full of exuberant acid, citrus fruit flavors and fresh herb aromas, chalk, ripe fruit and, and lemon zest. Spectacular Riesling! The estate's other site-designated Riesling comes from several parcels in Breitenberg, a high elevation sandstone site at the west end of the Vallée Noble, possessed of stunning south-facing views. The combination of full south exposure and high elevation leads to high diurnal variation. If Luss Rieslings seem symphonic, punctuated with dramatic chords involving many instruments, the Breitenbergs are more like concertos: elegant, disciplined, nuanced and (often) slow to open when the wines are young. The 2016 was flinty and slightly spicy, showing white pepper, white peach and lemon, giving an impression of length and delicacy. The 2015, 2014 and 2013 were all variations on this theme, showing white pepper and lemon zest repeatedly, highlights of white peach and pear. A cool growing season made the 2013 seem especially angular.
The estate's third Riesling is called Les Grandes Lignes, and is anchored with fruit from Bollenberg. Bollenberg is a single north-south oriented hill, detached geologically from the neighboring pre-Vosgian slopes, covering almost nine kilometers from Rouffach to Issenheim, built variously of limestone, marl and sandstone. Its ridgetop and some flanks are mostly protected reserves that provide refuge for various bird, insect, plant and animal species, but there are vineyards on both sides of the hill, and therefore both east and west facing. When the two slopes are counted together, total vineyard surface on Bollenberg amounts to about 300 hectares. Bollenberg is especially dry (annual precipitation here is barely 350 mm, or about half of what prevails around Trier in the upper Mosel). It is also relatively warm, creating a hospitable environment for tropical plants like orchids. Léon Boesch farms about 0.7 hectare of 30+ year old Riesling on Bollenberg, which anchors the fruitiest and most approachable of the estate's three Rieslings. The 2015 was very attractive; the 2012 showed unmistakably evolved aromas over a core of herbs and stone fruits.
Pinot Noir at Léon Boesch is noteworthy, owing in part to the two years that Matthieu Boesch spent in Burgundy. A "basic" Pinot called Les Jardins relies on fruit from several parcels on the Pfingstberg slope and one on Breitenberg; the 2015 edition of this wine was all about berry fruit on the nose followed by a bit of earthiness on the palate. Fruit signals were less prominent in the 2012, but the wine had developed considerable palate strength, showing richness and texture. The flagship bottling, from Luss, was a much more serious wine. The 2015 was fruity and vibrant with pronounced aromas of cherry, raspberry and red currant; the 2012 was also noticeably fruity, but also smoky, spicy and delicious. Luss also shows noticeable stoniness from the calcareous soils in which it grows, and firm, silky tannins. Pinot Noir is the only grape that is destemmed here before it is crushed, and it is fermented in small open-top tanks before going into well-used (for four or more wines) barriques for twelve months' élevage.
Léon Boesch has an especially firm commitment to a very dry style for white wines. All of the Riesling finish year in and year out with less than 4 grams of residual sugar, and often with barely more than one gram, notwithstanding pH values under 3.0, and (usually) seven or more grams of acid. But Riesling is not an exception here; it is the rule. Silvaner, Pinot Blanc, Muscat, Pinot Gris and even Gewurztraminer are made "bone" dry here, because the family thinks residual sugar is unnecessary, interferes with terroir expression, makes food pairing problematic – and, in the end, because it is kind of wine they themselves like to drink. How can this be done consistently when the house relies entirely on naturally-occurring yeasts? Matthieu Boesch has taken a page from the cellarbook of red wine makers here. Realizing that red wine fermentations almost never stick, he make sure his whites get plenty of oxygen during fermentation and especially in the final phases of fermentation, in the spring following the vintage. Each tank of white is therefore drained and refilled at least three times while the wine remains in contact with the full lees, the unfinished wine being oxygenated in the process. Et voilà: every tank of white is made reliably dry without heating, or added exogenous yeast, or any other intervention!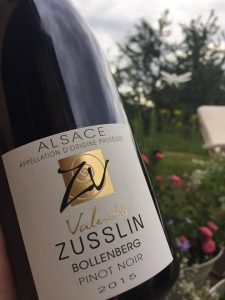 Domaine Valentin Zusslin is only minutes by car from Boesch, across the lower slopes of the Pfingstberg hill. Marie and Jean-Paul, sister and brother in the 13th generation of Zusslins since the family relocated to Alsace from Switzerland in the 17th Century, are now in charge of the estate, which has important vineyard holdings across the Bollenberg and Pfingstberg hills, and in the Lutzeltal, above Rouffach. Riesling is grown across several parcels on the Bollenberg, and in the Pfingstberg Grand Cru and in Clos Liebenberg, a monopole adjacent to the south end of the Pfingstberg Grand Cru. Made of the same marl and sandstone soils as Pfingstberg Grand Cru, and with a similar altitude and orientation, Liebenberg is a genuine clos, walled or hedged on all sides, within which the biodiversity of multiple insect and bird species, and fruit trees in addition to vines, help maintain a naturally healthy environment for viticulture. Zusslin's 2014 Riesling from Clos Liebenberg was a lovely, lively and intense wine, herbal with tarragon and well-textured on the long finish. To my palate it was finer than their 2014 Riesling from Pfingstberg Grand Cru, which was noteworthy for its density and concentration. Zusslin's Rieslings from Bollenberg, one of which carries the Bollenberg name and one of which is called Neuberg, are the estate's more approachable Rieslings, more fruit-expressive, and featuring a few exotic flavors. Neuberg is actually a single parcel within Bollenberg, high on the hill and east-facing, planted in the 1970s. The 2014 Neuberg was a cocktail of ginger and stone fruits, while the Bollenberg blended citrus with the same notes of ginger. The Neuberg was also lighter of foot and brighter. Bollenberg is also home to Zusslin's rather extensive Pinot Noir program (almost 19 percent of the estate's total production is Pinot Noir), which is one of the most successful in all of Alsace. The basic bottling carries just the Bollenberg name, while the "better" bottling is called Bollenberg Harmonie, and is made from the "best" parcels. Basic winemaking is identical for both. The grapes are completely destemmed, and spend 15 days fermenting in large wood tanks, punched down three times.  Then the new wine is pressed off straightaway with no post-fermentation maceration. Barrels for the straight Bollenberg are one third each of new, one-year-old, and two-years-old pièces from Meyrieux in Nuits-Saint-Georges; the Harmonie sees a larger share of new wood. Both are bottled after a year in barrel. The 2015 Bollenberg was a nicely balanced and savory wine that already drinks well. 2013 Harmonie was a lovely garnet-colored wine, round, sober, elegant and ample. Similarly elegant, the 2012 was slightly more austere. Zusslin's Harmonie is always well-built wines from perfectly ripe grapes, although minor differences in winemaking (e.g., little or no use of sulfur, and variable proportions of new wood) can affect how individual vintages show.
It is no secret that both Riesling and Pinot Noir are ascendant varieties in Alsace, along with "the other pinots;" and that Riesling, Pinot Blanc and Gewurztraminer are now the region's most planted varieties. (The big losers of the last half-century have been Chasselas and Silvaner.) Although interpretations of the quantitative data vary, it seems clear to me that Riesling and Pinot Noir have received especially serious attention since the 1990s. For Riesling the attention seems to reflect a growing though still imperfect consensus among the region's vintners that Alsace Riesling really is best when it is made genuinely dry. Not just dry-ish, but seriously dry, with residual sugar well under 5 g/L. Certainly all of the three producers discussed in this post are comfortable with very dry Rieslings. All have also learned to marry this dryness with modest alcoholic strength – often between 12° and 13° – a trick that escaped many makers until they embraced viticultural practices that could mitigate the undeniable effects of global warming. (Sometimes it helps to be biodynamic!) With Pinot Noir, the seriousness is wrapped in a newfound familiarity with Burgundy (where many younger vintners now go to earn their winemaking credentials), inevitable attention to the region's only red variety at a time when red wine is gaining popularity across northern Europe, better viticulture overall that is especially useful with Pinot, and a great willingness to experiment with various cellar parameters including less sulfur, back-to-the-future approaches to pigeage, and lighter filtration. The southern end of the Alsace wine road may sense a special aptitude for Pinot Noir given the longish track record of quite good Pinots from the Muré family's monopole in Vorburg (Clos St-Landelin) and Hengst-based Pinots from Albert Mann in Wettolsheim. In any case, the quasi-rosé that passed for Pinot Noir when I first visited Alsace in the 1970s is no longer acceptable to anyone, and (happily) is fast disappearing. I think it is fair to say that the top quartile of Alsace Riesling now competes without handicap worldwide (OK, true that Clos Ste. Hune has never needed to blush!), and that Alsace Pinot Noir may soon command as much attention, at least among cognoscente, as the top tier of German Spätburgunder have claimed in the last decade. It would not surprise me to see one or more of the Pinots described in this post among internationally top scoring Pinots quite soon.