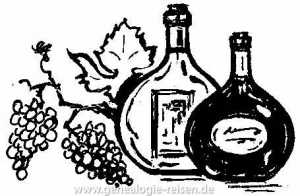 If Weissburgunder (Pinot Blanc) is the newest Cinderella story in German white wine, its planted surface having tripled between 1995 and 2017, Silvaner is presently eclipsed.  Germany's most planted variety at the turn of the 20th Century, and third most planted as recently as 1995, Silvaner has gradually lost ground.  The story is similar across the Rhine in Alsace, where Sylvaner (Alsace orthography) has now slipped from a 25% share of the region's total vineyard to just 10%.  In Austria, where the variety was born but may never have had much traction, planted surface has shrunk to fewer than 40 hectares countrywide.  Still Silvaner is not endangered, remaining the second most-planted variety in Franken, and fourth most-planted in Rheinhessen.  On these shores, it thrived in several California wine regions as early as the 1850s and as recently as the 1970s, often as part of a blend, or sold as Franken Riesling.  These days it clings to a few tiny plots in the Santa Maria Valley and Sonoma. And one reported near Forest Grove in Oregon.
As a general matter it is far from clear what drives (and has driven) the ebb and flow of vogue around wine grape varieties over time.  In Silvaner's case, why did it lack traction in early modern Austria but still appeal enough to the abbot of Ebrach that he imported cuttings into Franken in 1665?  Why was Silvaner more attractive to growers in Rhenish regions at the turn of the last century that at the beginning of the 21st?
Such questions deserve attention well beyond the scope of this post.  Here I report instead my impressions from an opportunistic lineup of 17 Silvaners tasted at Stanford, CA on 3 March 2020.  No effort was made to obtain wines from all areas where it is now important, or to reflect its relative importance by region.  Or to identify and represent wines from "top producers." What could be found easily was acquired, period.  Happily, quite a few top producers were included.  In the end 11 of the 17 wines came from German regions, 4 from Alsace and one each from California and the Alto Adige. Thanks are owed to several importers for their help, with special thanks to Tom Elliot of Northwest Wines, Ltd. for no fewer than seven wines from his Silvaner-rich list. A link to the tasting list is found at the end of this post.
My impressions from this tasting…
Silvaner has at least a dual personality. On the one hand, with a tendency toward generous yields and low acidity, it is often "relatively neutral," "firm," and "full bodied."  On the other hand it can be "light, fragrant, gentle and almost shy." And a few wines in this tasting, especially from cooler years, were something else again.  These wines showed real electricity; they were edgy, exciting, treble-clef wines
Silvaner from limestone-based soils often displays special synergy. One could actually make a long list of white varieties for which alkaline soils, which usually correlate with relatively high acidity in the berries, transforms those varieties into brighter avatars of themselves. Several times in this tasting, Silvaners from alkaline soils showed really well. Consider the Thoerle wine from the Saulheimer Probstey vineyard as a first example: an explosive nose with a shower of mint, tarragon and sage, followed by a lively palate impression of minerality.  Or the Juliusspital wine from Wuerzburger Stein, full of energy, yellow fruit and chives (!) that finished taught, dry and mineral.  Or Wirsching's Julius-Echter-Berg GG: regal and intense with a long mineral finis
Silvaner seems one more in a longish list of Rhenish white varieties that achieve remarkable distinction when they are grown and made in the Alto Adige. I cannot explain why this should be true, but have remarked it previously with Kerner, Pinot Blanc and Mueller-Thurgau. In this tasting it was Kuen Hof's Eisacktal Sylvaner that stood out: a tight, bright wine that seemed almost the polar opposite of "round" or "neutral," alive with hints of citrus on the nose and yellow apple skins on the palate, lean and finely shaped throughout, and very dry. And all this despite generous alcohol (14º).  It probably does not hurt that Silvaner is Kuen Hof's flagship wine; owner-winemaker Peter Pliger makes more of it and is more known for it than for his (also excellent) Riesling
Franken looks like the future of Silvaner. Observers often note that Franken looks like Silvaner's past and present, both of which are true. But the thoughtful and concentrated attention it gets in Franken today may bode well for its future here too, and perhaps for more and better Silvaners elsewhere as well. In Franken but rarely in Rheinhessen, Nahe or Pfalz, Silvaner is not only grown by top vintners, but grown in their top vineyards.  Here but not elsewhere, VDP.Franken members have made sure that their best Silvaner vineyards (which are often also their best Riesling vineyards) have been recognized as Erste Lage or Grosse Lage.  This also contrasts with circumstances in Alsace, where Sylvaner was not a permitted variety in any Alsace Grand Cru vineyard until 2006, when it was approved for Zotzenberg.  Now, Silvaner could get a second chance in Alsace.  The days of a single AOC for all Alsace Grand Crus ended in 2016 when separate cahiers des charges were adopted for each Cru.  About the same time the INAO agreed to consider cahiers des charges for a category of lieu dits that may eventually be designated as Premier Cru.  Bollenberg, near Orschwihr, is the object of one such cahier.  With Domaine Valentin Zusslin, one of Orschwihr's most respected producers, making excellent Riesling,  Pinot Noir and Silvaner from Bollenberg, a Bollenberg Premier Cru could be on its way to INAO approval.  And such approval could apply to all three varieties. Meanwhile, Zusslin's Sylvaner Bollenberg 2014 showed beautifully in the tasting: substantial, round and resinous with notes of tarragon, nut shells, white peach and peach skin, and a touch of botrytis; very interesting with great character
Meanwhile, Silvaner is often a price performer. Even top-quality wines sell retail in the States for prices in the mid-twenties. At San Francisco's iconic Zuni Café, André Ostertag's "Les Vielles Vignes de Sylvaner" has been almost the least expensive French white wine on offer for upwards of a decade.  Savvy consumers might do well to pay Silvaner some serious attention before the word gets out.
The List:
Rheinhessen Silvaner Alte Reben 2017 (Weingut Dr. Heyden)
Alsace Sylvaner Bollenberg 2014 (Domaine Valentin Zusslin)
Alsace "Les Vieilles Vignes de Sylvaner" 2017 (Domaine Ostertag)
Alsace Sylvaner 2018 (Domaine Charles Baur)
Franken Silvaner Retzstadter Langenberg Erste Lage 2017 (Rudolf May)
Rheinhessen Silvaner Saulheimer Probstey 2017 (Weingut Thoerle)
Suedtirol Eisacktal Sylvaner 2018 (Kuen Hof)
Rheinhessen Silvaner Feinherb 2017 (Weingut Strub)
Alsace Sylvaner 2017 (Albert Boxler)
Rheinhessen Silvaner Trocken 2018 (Weingut Wittmann)
California Sonoma Estate Sylvaner "Ode to Emil No. IX" 2018 (Scribe)
Franken Silvaner Iphoefer 2017 (Juliusspital)
Franken Silvaner Wuerzburger Stein 2016 (Juliusspital)
Franken Silvaner Escherndorfer Lump Erste Lage 2017 (Michael Froehlich)
Franken Silvaner Escherndorf am Lumpen "1655" GG 2016 (Michael Froehlich)
Franken Silvaner Retzstadter 2016 (Rudolf May)
Franken Silvaner Iphofer Julius-Echter-Berg GG 2015 (Hans Wirsching)