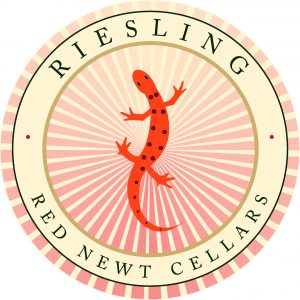 When research for Riesling Rediscovered took me to the Finger Lakes (locally abbreviated FLX but not to be confused with the FLX airport code, which is found in Fallon, Nevada!) in 2012, I spent a few hours at Red Newt, located on the southeast shore of Seneca, the region's largest and deepest lake. There were some very good wines on offer at the time, but it was hard to find the combination of single-vineyard and convincingly dry that were needed to meet the profile I had set for coverage in the book. Last month (July 2017) I returned, inspired by recent coverage of Red Newt in Wine & Spirits, recommendations from my colleague Stuart Pigott, and a happenstance conversation with Red Newt's winemaker at this year's Internationales Riesling Symposium in the Rheingau.
Today's Red Newt is Red Newt Reinvented. The premises have not moved since David and Debra Whiting founded the enterprise in 1998 as a combination of small, landless winery and the region's first locavore restaurant, and David Whiting is still very much in charge.   In the wake of Debra's untimely death in 2011, the full-service restaurant has been trimmed to a lunch-only bistro, but the latter still sports the region's largest list of good local wines, some very tasty food, and impressive lake views. The winery has morphed from about 1200 cases of assorted whites plus Bordeaux reds to more than 20000 cases annually, of which three quarters are now Riesling. Most importantly, perhaps, the Riesling program itself has been remade, acquiring seriousness, depth and a focus on vineyard-specific wines that are unambiguously dry.
Today two vineyards anchor Red Newt's Riesling program: Tango Oaks on the lake's southeast shore not far from the winery, and Lahoma, which is found about four miles west-southwest as the crow flies, on the lake's west shore, south of Glenora. Tango Oaks has been the source for a vineyard-designated bottling since 2012, and for a cuvée that carries the name of Red Newt's winemaker, Kelby James Russell (see below); some Tango Oaks fruit is also used irregularly in the winery's two anchor blends, Dry and Semi-Dry.   Lahoma, where Red Newt takes grapes from at least three blocks, is the sole source for a block-designated wine called The Knoll, occasionally also for a vineyard-designated Lahoma wine, and the main source of fruit for the Dry and Semi-Dry blends.
Located on the south edge of the Sawmill Creek Vineyard where Red Newt's single-vineyard program debuted back in 2009, Tango Oaks is an unusual example of literally new terroir. It is almost pure gravel, deposited in what had been a ravine by a flash flood in 1935, when half a meter of rain fell in less than 24 hours, partially filling the ravine. Like most of the so-called Banana Belt on Seneca's southeast shore, it basks in long afternoon sun. Counter-intuitively, Tango Oaks is not an especially precocious site, however, and tends to ripen late, possibly owing in part to the extremely porous soil. "Soils" composed mostly of gravel, rock fragments and sand, because they also contain large amounts of air, reflect heat well but tend not to absorb it, cooling rapidly at the end of each day. Unusually again, at least in the FLX context, Tango Oaks is planted entirely to CTPS 49, which is the anchor for Riesling in Alsace, but is not widely planted elsewhere.
Lahoma, a sort of counterpoint to Tango Oaks, faces east across the lake, and is buffered by topography from the warmer afternoon sun. It occupies a series of east-west oriented hills, and is planted entirely to 239 Gm, almost certainly the most widely planted clone of Riesling anywhere. One small piece of Lahoma, a two-acre parcel on a sandy knoll that rises higher than the other hills, is used preferentially for The Knoll. The site is well ventilated, with low pressure from botrytis, and thus works especially well for dry wines.
Vertical tastings of Tango Oaks and The Knoll in July 2017 documented an odyssey of incremental changes to winemaking. If the credit for enabling the reinvention of Red Newt lies with David Whiting, who took the first crucial steps toward a Riesling-centric focus and toward single-vineyard bottlings, the architect of its technical and stylistic transformation belongs to Kelby Russell, the winemaker since 2012. Russell, an upstate New York native educated at Harvard University in government and economics, plunged into wine soon after graduation, working first at Fox Run, across the lake from Red Newt. His on-the-job viticultural and enological training was supplemented by off-season (in the northern hemisphere) experience in the vineyards and cellars of New Zealand and Australia. With Russell in charge, Red Newt Rieslings have taken deliberate and incremental steps toward lesser amounts of residual sugar and a newfound emphasis on structure and texture.
Tasted this year, the 2012 Tango Oaks wine was racy and friendly, strewn with mint, other green herbs and white pepper. It was also long and very slightly round, finished with about 7 g/L of residual sugar. From 2013, these wines gradually showed more citrus and apple character, and also more edge, as skin contact pre-fermentation and lees contact was increased bit by bit, gradually making a slightly larger wine, with concentration and structure, while residual sugar dropped ca. 2 g/L to a new average of about 5 g/L. A similar vertical of The Knoll told much the same story more boldly. The 2013 Knoll, all about lovely stone fruit but not convincingly dry (in fact about 9 g/L of sugar), saw a three-day cold soak before pressing, but little post-fermentation contact with lees. The 2014 was much more textured from longer contact with lees, and was loaded with yellow plums and spice. The 2105 showed very round and complex, tinged with citrus pith. By 2016, the wine presented brightly, with an impressive attack, plenty of mid-palate complexity, flavors of lime and quetsch, and barely 4 g/L of residual sugar, hence plainly and unambiguously dry.
From its debut in 2013, the Kelby James Russell bottling was deliberately bone dry, averaging <2 g/L of sugar. The objective here, according to Russell, is an "FLX interpretation" of Australian Riesling's signature style, low in both alcohol and pH, fermented quite cold, redolent of lime (and in this version also lilac), crisp from double-yeasting, and eventually also very textured, tightly knit and tightly wound.
The velocity of change for the better in FLX has increased progressively over the last decade, as the number of wineries, the surface under vine, the concentration of professionally trained winemakers, the penetration of FLX wines into serious restaurants in major markets, and support for the wine industry at Cornell University have all increased and left their marks. Even in this benign milieu, however, Red Newt's turnaround seems a noteworthy chapter. Miss no opportunity to taste these wines, and expect yet better from vintages to come!