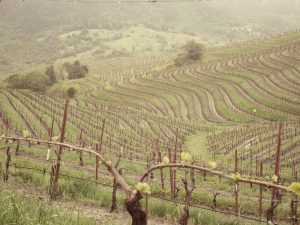 Although a short list of mostly small Riesling vineyards was reported to the Directory of Grape Growers of the Sonoma Viticultural District in 1891, the variety had barely a toehold in the landscape then, having lost ground after an early zenith in the 1850s.  And sadly for Riesling, the variety's lot in Sonoma has scarcely improved in the approximately 130 years since.  The California Grape Acreage Report for 2019 found just 51 bearing acres in Sonoma County.  Although specific acreage-by-variety data is not available for 1891, the long story short for Sonoma can scarcely be better than no-gain-no-loss.
Still, once in a while there is a flicker of good news about Riesling in Sonoma.  Scribe Winery co-founders Andrew and Adam Mariani planted ca. two acres in 2007 about three miles east of the Sonoma Plaza, from which they make a small quantity of a cult bottling of low alcohol, bone dry Riesling that I have (alas) never tasted.  Now the newest Sonoma Riesling news known to me is a few acres in the Cougar Ridge part of the Jackson family's 900-acre Alexander Mountain Estate Vineyard, originally planted in 1997.  Circa 2010, a few acres of this vineyard were re-grafted to white scions, including Riesling.   These acres are found about 1000 feet above sea level on a steep (average slope is 44 percent) southwest-facing slope.  West winds that chase summer fog off the vineyard around mid-morning.  The soil here is of volcanic origin, consisting of Yorkville series clay-loam and broken volcanic rock.  The rootstock is 110R; the new scion material consists of FPS Riesling 01 (~Weis 21B) and FPS Riesling 29 (~CTPS 49.)  The man behind an exciting, serious, dry Riesling wine from these vines beginning in 2016 is Fabian Krause, a Hochschule Geisenheim graduate who worked first at Weingut Fritz Allendorf in the Rheingau, and then at Chateau Lassègue in St. Emilion, before moving on to Jackson Family Wines in Sonoma County.  (There is a story behind this apparently unusual odyssey: Lassègue, like Vérité in Sonoma, is a joint venture of two families – the Jacksons and the Seillans – and Krause is married to Pierre Seillan's daughter Hélène, who has recently become her father's right hand at Vérité.)
With ample experience in Germany's most Riesling-intensive wine region, Krause adapted his approach to suit the Alexander Mountain site, picking (in 2016) in multiple passes across two weeks of elapsed time, maintaining excellent acidity in every pick. The fruit was pressed as whole clusters, minimizing contact with the air, before reversing course post-fermentation, when Krause's winemaking shifts from reductive to oxidative.  After fermentation, the new wine was kept on its full lees until bottling.  The result in 2016 is a bright, taut wine of low pH (between 3.0 – 3.1), 7.4 grams of acid and just 3 grams of residual sugar, slightly dusty on the attack, then softly fruity and strongly herbal at mid-palate with highlights of fruit peel.  There is ample texture on the back palate, and the wine is aromatically exciting.  The 2017, from a significantly warmer vintage, was of necessity picked in a single pass on 3 September, and botrytis-affected fruit entirely removed before pressing.  This vintage presents as a slightly more fruit-forward and citrus-y wine, with a less-articulated complement of herbs.  Four g/L of residual sugar this time to offset a bit more acid (8 g/L); the impression is less tense than in 2016, but the wine remains firm and dry.
Neither vintage of Riesling, nor a very interesting 2016 Sauvignon Blanc Krause fashioned from a stand of head-pruned Sauvignon vines planted in the 1950s, has yet been released.  Together they will be the first releases under a new brand called Zeitlos — which translates as "timeless" – sometime in 2020.   Given the painfully short list of California Rieslings that are perennially serious, and the even shorter list of Riesling-centric California wine brands, plus Riesling's doleful status in Sonoma – the most vinous of the state's counties outside the Central Valley — the debut of JFW's exciting and  "timeless" whites cannot come too soon.   Stay tuned!