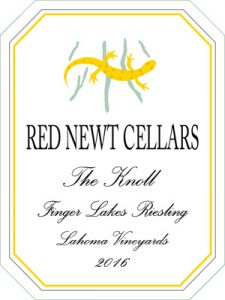 A 2017 post on this site called attention to Red Newt Cellars in New York's Finger Lakes.  When I had visited early that summer, Dave Whiting, Red Newt's experienced owner-founder, and Kelby Russell, its winemaker then five years in post, organized an impressive tasting centered on three-year verticals (2013-2015) of two single vineyard Rieslings, one from the Tango Oaks Vineyard, the other from The Knoll.  Tango Oaks is a stone's throw from the winery on Seneca Lake's east shore; The Knoll is part of Lahoma Vineyards, directly across the lake high above Seneca's west shore.  Both verticals were liquid documentation of a careful, deliberate and masterful refashioning of each wine, making each incrementally drier, more textured and more serious – while still very different from each other.
Just before Christmas 2020, Red Newt was kind enough to bring me up to date on The Knoll, sending samples of this wine from 2016, 2017 and 2018.  These  samples documented something new – not just a corner being turned in respect of overall style, but a refashioning now largely complete, with each new vintage reflecting itself, while tidying up after the implementation of style and structure changes largely completed between 2013 and 2015.  2017 and 2018 were the occasion for a final reduction in residual sugar – to about 3 g/L.  And texture further enhanced in and after 2016 by converting The Knoll to naturally-occurring yeast.  In short, the future had become an unnecessary lens.  Across 2016-2018, Red Newt's Knolls were now  bright, tense, dry and beautiful.  Fit for company anywhere on what Stuart Pigott calls "Planet Riesling."
"Refashioning" single vineyard wines sounds contemporary and artificial but is neither.  In a modified idiom, winemakers often talk about "cracking" a vineyard, or "dialing [it] in," which is about the same thing.  But wine styles and cellar techniques to optimize for a site's potential have been in flux for nearly as long as people have been serious about wine, in all regions and involving all grape varieties.  So ubiquitous in fact that refashioning should be considered  normal and almost evolutionary.  It happens whenever a young scion takes over winemaking reins from a retiring mother or father.  As and when global warming forces changes to irrigation, farming or winemaking.  When vineyard "inputs" are adopted or abandoned to increase yield or reduce it.  When a winemaker experiences an epiphany, deciding to pick henceforth earlier or later.  When market sensibilities change for a host of reasons.  (That said, a good case could be made that refashioning stalks Riesling more persistently than other varieties in the 21st century because the "sweet" or "fruity" idiom was so ubiquitous for so much of the 20th.  And is still the dominant idiom in most North American regions, the Finger Lakes included.)
Refashioning starts with the vineyard itself.  The Knoll, is literally a knoll and the highest of several at Lahoma, more than 800 feet above sea level and twice the elevation of the lake's surface.  As such it benefits from generous air circulation.  East-facing, the site is naturally cool.  Made of sandstone under a loamy topsoil so visibly sandy that soil scientists coined the name "Dunkirk" to denote its type, it drains beautifully and resists botrytis and sour rot heroically, even in the wettest of vintages.  And the same soil that drains well is also conducive to deep rooting, resisting drought stress in very warm years.  Russell also reports that grapes always ripen fully in The Knoll and can be left to so do with no danger of rot — so clean is the site.  In short, the Knoll is nearly a poster child for a dry Riesling vineyard, in the same way that (for example, but just one of many) Schoenenbourg de Riquewihr, in Alsace, is not an easy place to make dry Rieslings successfully, Maison Hugel's success with same notwithstanding.  Schoenenbourg has almost everything that The Knoll lacks: humid air, lack of breeze, clay-rich soils and high botrytis pressure.  Little wonder that most Riesling from Schoenenbourg finishes well above the ceiling for dry wine, and often as botrytized late-harvest wine instead.  And little wonder that The Knoll seemed to Russell a perfect candidate for fermentation to almost complete dryness.
Beyond its proclivity for clean fruit and a dry wine style, The Knoll also seemed "structured" and "powerful" to Russell, year in and year out. Not harshly structured or roughly powerful, but tense, taut, lively and seamless — elegantly powerful perhaps. Whiting confessed that he had never "quite cracked it." (In fairness Whiting had not accumulated much Knoll experience before handing off to Russell.) Russell thought it would make sense to augment what he and others already liked about the vineyard, which were mostly structural attributes.  Hence incremental increases in pre-fermentation skin contact, fermentation length and post-fermentation lees contact, all introduced, or their duration extended, between 2013 and 2016.
A very successful refashioning, skillfully done.  Chapeau, Red Newt.  In the tasting notes that follow, readers will find evidence of the refashioned Knoll across three radically different vintages – be sure to notice the summary growing season weather in each case.  That done, we could all muse about additional tasting that might be illuminating.  The Knoll alongside a few vintages of Ravines' Argetsinger and the driest of Keuka Lake's Falling Man?  Or the Knoll alongside some European sandstone vineyards, like Saering in Alsace, Karthäuser in the lower Nahe – even fabled Heiligenstein in Austria's Kamptal.   Too bad there is not more sandstone in FLX – or maybe we just need to look harder?
TASTING NOTES
With observations about prevailing weather, and wine chemistries
2016
Very pale, yellowish straw; understated aromas of verbena and chamomile; the wine then explodes on the palate with a cocktail of citrus and bosc pear.  Round and very slightly creamy at mid-palate; lemon custard then gives way to pear skin on the finish.  Intense throughout, exuberant, and irresistible.  From a very hot year with zero rainfall during the growing season.
5 g/L RS, 7.5 g/L TA, pH 3.1; 13.2°
2017
Aromas of lemon pith and a concerto of dried herbs, especially tarragon and its minty cousins.  On the palate there is Japanese Nashi pear, green apple and Meyer lemon peel.  The wine is beautifully built, super clean and very lively; taut also with many expressions of minerality; tightly and seamlessly woven.  Inspired to metaphor, I could imagine a freshly raked Japanese gravel garden.  Fascinating, mesmerizing and very fine.  My personal choice for best Knoll to date. Polar opposite of 2016 meteorologically, 2017 was one of the coldest growing seasons on record in FLX. 
3 g/L RS; 7.9 g/L TA; pH 3.1; 12.6°
2018
Slightly deeper color than either 2016 or 2017, the 2018 seems to oscillate between savory with a hint of fruit sweetness on the one hand, and umami that dallies with faint bitterness on the other.  Dried mint, shiso leaves, bay laurel, a bit of nori, stone-fruit pits, licorice and ripples of minerality.  Substantial, great density of flavor, but lithe.  Impressive.  A warm year overall but incredibly wet from mid-August to harvest.  A nightmare year for most of the FLX.
3 g/L RS; 7.34 g/L TA; pH 3.28; 12.8°